Chatsworth Farm in Derbyshire celebrates 40 years of visits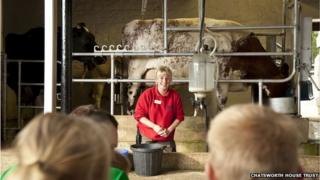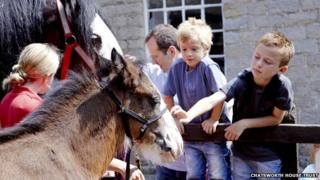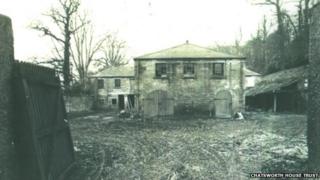 A Derbyshire farm which says it was one of the first to open to the public is celebrating its 40th anniversary.
Staff at Chatsworth Farm, which is on the Duke of Devonshire's estate, say it was pioneering when it was launched by the current Dowager Duchess in 1973.
The farm, which is marking its anniversary with an exhibition, educates children about agriculture and where food comes from.
Today it attracts between 180,000 and 200,000 visitors a year.
Demonstration milking parlour
Farmyard manager Margaret Norris said: "Before 1973, the farm was a derelict building yard.
"The Dowager Duchess had the vision to turn it into a farming and forestry exhibition, known as the model farm.
"At the time, there was a lot of interest from schools in the area wanting to know how animals were farmed. They were asking to go and visit the working farms on the estate, but health and safety made that difficult."
Instead, the Duchess oversaw the plans for a model farm, which borrowed cattle and sheep for the summer season.
She also set up a demonstration milking parlour where cows are milked at an angle, allowing the public to view the process.
"I would say we were one of the first farms to open as a visitor attraction," said Mrs Norris. "Certainly we were one of the only ones in the area for a very long time."
The farm now has an adventure playground and a mixture of pigs, sheep, cows, chickens, shire horses, goats, donkeys and a guinea pig "village".
It will mark its anniversary, on 26 July, with an exhibition of archive pictures and a 1970s family games day.