Philpott fire deaths: Children's memorial funds 'spent on pub visit'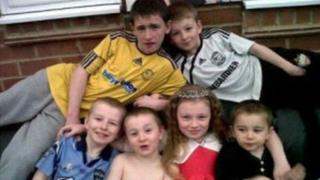 Relatives of six children killed by their parents in a house fire in Derby have called for a fundraising group in their memory to close.
A meeting heard that some of the money raised by Catch Me When I Fall had been spent on a pub visit, cigarette papers and shower gel.
But Bobby Sutherland, who runs the Derby-based group, said the £70 pub visit was a legitimate food expense.
He added that the group had already helped the families of two children.
Jade Philpott, 10, John, nine, Jack, eight, Jesse, six, and Jayden, five, died in the fire on the morning of 11 May 2012. Duwayne, 13, died later at Birmingham Children's Hospital.
The children's father, Mick Philpott, mother, Mairead Philpott, and family friend Paul Mosley were jailed in April for their manslaughter.
After the meeting Mr Sutherland told BBC Radio Derby: "All the receipts are there, it's all properly done.
"Obviously, I'm not a bookkeeper, I don't claim to be.
"We've got all the books, yeah they are not the best of books but we are trying to get it sorted the best way we can. We are totally legal and everything is accounted for."
He claimed to have been bullied about the matter over the internet, and police confirmed they are investigating his allegation.
Bank manager Darren Davidson, working as a volunteer, went through Catch Me When I Fall's receipts at the meeting on Tuesday.
Poundland receipt
Expenses incurred on a fundraising walk from Skegness to Derby included the £70 pub visit, fuel and campsite fees.
Mr Davidson read out a receipt from Poundland which included napkins, shower gel, a cigarette rolling rack and cigarette papers.
Those at the meeting had difficulty trying to calculate how much money the walk had raised, but it was said to be in the region of £1,500 or £1,800.
The expenses incurred were said to be between £230 and £280.
A post on the Catch Me When I Fall Facebook page on Wednesday stated that the group's bank balance was £2,969.08.
The page says it is "a lasting memorial of the 6 angels".
Jimmy Duffy, Mairead Philpott's father, took part in the fundraising walk but now wants the group to close.
Speaking after the meeting, Mr Duffy said: "Either close it down or re-start as something completely different.
"At the start there was good intentions and they organised a walk and that.
"I don't want any more dealings with them."
'Leave the children'
He added that he wanted the names of his grandchildren removed from the group's Facebook page.
Jennifer Lobban, one of Mairead Philpott's sisters, also wants it to stop using the children's names for fundraising.
Following the meeting she said: "After the trial we just wanted to leave everything alone, leave the children, let them rest. People like this just keep bringing it up.
"There's people going out collecting money in the children's names [and] this money is not doing anything."
Mr Davidson added: "I do feel that they have tried to do it with the best interests, but has it been run effectively and clearly? No.
"It's not been done correctly. I think they needed a bit more guidance than they've had."
Mr Sutherland said he would consider taking the children's names and photo off the group's Facebook page but he would not close the group.
"To be honest, if I close it down I look like I'm doing wrong. I can prove I'm doing right," he said.