Transformer travels 5,500 miles to Willington village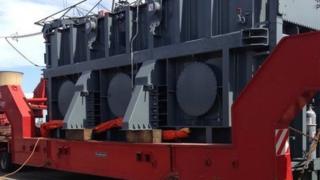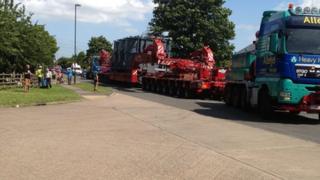 An electricity transformer the size of a house has been lowered into position in a south Derbyshire village.
The 255-tonne, 58m (190ft) long and 5m high (16ft) item forms the heart of a new substation at Willington.
Built in South Korea, it was taken by ship to Goole in East Yorkshire before being driven by a specialist haulage team to the site.
The trailer, flanked by police outriders, travelled at about 12mph along motorways and main roads.
National Grid said it was installing the transformer at a weekend to minimise disruption.
James Berry from the National Grid said: "It is the size of a bungalow. To get it here meant a 5,500-mile journey.
"It came via a large container ship from Korea. It stopped off at Rotterdam, before completing the final bit of its journey into the UK.
"It's a very delicate piece of kit, so its delivery is a kind of military operation."
Project manager James Goode said: "The transformer is an important upgrade to the Willington sub-station.
"It means we can maintain the future supply of electricity to a large local area."