Cromford Canal newts increase dredging cost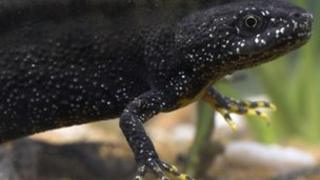 A dredging project will cost £40,000 more than planned after endangered newts were found at a proposed silt disposal site.
The Derbyshire County Council project to dredge a section of Cromford Canal was originally estimated to cost £300,000.
But the discovery of great crested newts on a proposed disposal site meant the silt had to be taken further.
This meant the transportation cost had increased.
The last boat travelled on the canal in 1989.
Great crested newt
The great crested newt is protected under wildlife legislation so the silt had to be taken to another location further away from the canal, a council spokesman said.
The work on the canal, which has been delayed by almost two months but is now is expected to finish soon, will allow boats to use a 1.3-mile (2.1km) stretch from Cromford Wharf to Leawood Pump House.
The project started in February and was originally due to finish in May.
A Derbyshire County Council spokesman said: "Derbyshire is lucky to have an extensive network of canals which offer opportunities to boost tourism and economic growth and help to drain away flood water - but they need looking after.
"This work will allow Friends of Cromford Canal to run boat trips along this stretch of water once more, bringing another historic feature to the Derwent Valley World Heritage Site making it even more appealing for visitors."
Friends of Cromford Canal chairman Patrick Morris said : "If it results in a popular attraction returning to Derbyshire and encouraging visitors to come and spend their money here, then I think it is worth it."
Mr Morris said his group was hoping to launch a refurbished electricity-driven narrowboat on the canal in early August.
The canal originally opened in 1794.