Chatsworth to stage a cage fighting photography exhibition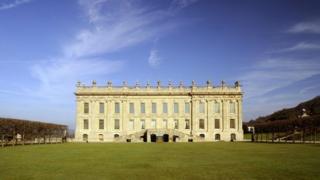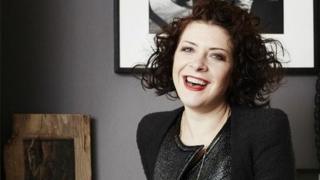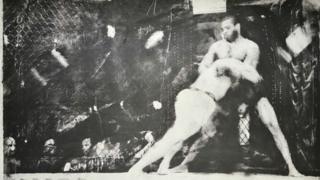 A Derbyshire stately home is to stage a cage fighting photography exhibition by a Nottingham artist.
Chatsworth, which is owned by the Duke of Devonshire, will host the exhibition of photographs and monoliths by Emma McGuire.
Ms McGuire said her work was inspired by time she spent with cage fighters in Atlantic City, New Jersey.
The exhibition will open at Chatsworth on 11 July and run through to 8 November.
Keen collector
The Duke of Devonshire described the work as "beautiful".
He said he decided to host the exhibition after visiting one of Ms McGuire's shows in London.
"When I saw the images full-size I was really impressed and excited," he said.
"There was an opportunity at Chatsworth and we had space, so we added it to our exhibition programme at short notice.
"I'm really pleased we're bringing her work up here because I think people will love it.
"Some people might find the cage fighting images very calming, others may find them a bit threatening.
"I think there will be a huge variety of interpretations and that's one of the really exciting things about the series."
Ms McGuire said she had been introduced to the Gracies, a Brazilian cage fighting family, while she was in New Jersey.
"I worked with them for a few months, then went to all their fights and photographed them," she said.
"It's certainly not sports photography. I use long exposures and the work is about creating an atmosphere - almost a dance with the fighters.
"On the surface, as a subject matter, cage fighting may seem very aggressive and violent, but working within the environment with the people who do it, it's very controlled and disciplined and they have to be able to master multiple skills."