Disruptive Derby ring road works could 'finish early'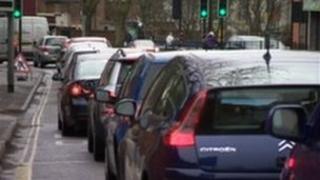 Roadworks that have caused months of major delays in the centre of Derby could finish ahead of schedule.
Repair work on the city's inner ring road has caused severe tailbacks since it started in January.
A Derby City Council spokesman said it was possible the work would be complete by the end of July - rather than the original estimate of early September.
The work will be speeded up when a section of St Alkmunds Way is closed for the four nights.
The work included maintenance work on three bridges on St Alkmund's Way and renovation work on the Derwent Underpass and King Street at an estimated to cost £1.2m.
The city council said the work was essential and included the installation of new lighting and the replacement of 600m (1,968ft) of concrete barriers.