Top towns in the British Isles include Buxton, in Derbyshire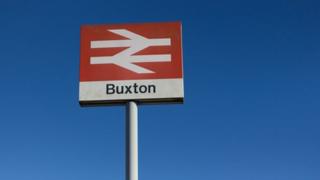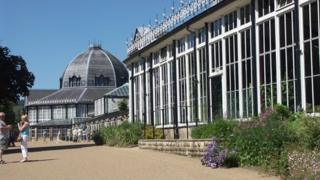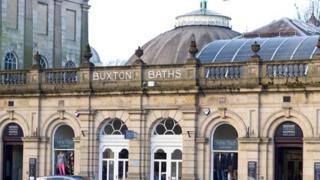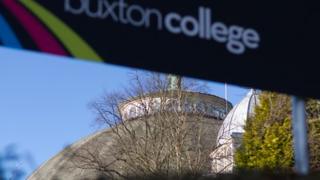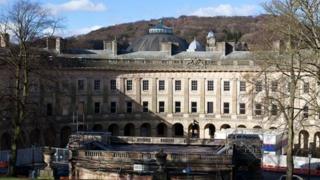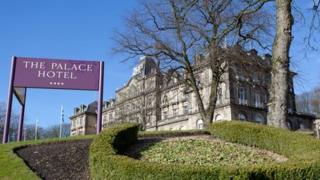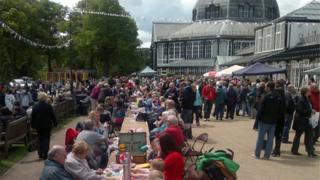 A Derbyshire town has been shortlisted in an awards ceremony celebrating the British Isles' most attractive places.
The spa town of Buxton is one of three finalists in the category, along with Cork in Ireland and Hastings in Sussex.
The Academy of Urbanism, an independent organisation that runs the awards, said its criteria included quality of place, tourism initiatives and culturally-led regeneration.
The results will be announced in London on 8 November.
'A fantastic vibe'
Buxton's tourist information supervisor Carolyn Botham said: "This is fantastic news. Buxton is a beautiful location with beautiful countryside all around us."
She said events such as the annual Buxton Festival and Fringe, an annual comedy and arts festival, the International Gilbert and Sullivan Festival and the refurbishment of The Crescent, a Grade I listed Georgian building which was modelled on the Royal Crescent in Bath, had given the town a "fantastic vibe".
Zoe Mellen, an administrator with Vision Buxton, an organisation which seeks to enhance and promote the town, added: "The news doesn't surprise me. The architecture in Buxton is stunning.
"The Buxton Festival Fringe is second only to Edinburgh and we have two theatres, while the Pavilion Gardens are absolutely beautiful."
Netta Christie converted a Dairy Crest milk float into a tram, named Wonder of the Peak, offering tours of the town
She said: "Buxton is a spectacularly beautiful town with a big artistic community. I think it went through a moribund patch during the 20th Century but now it's really thriving. We all have a lot of civic pride"
Previous winners of the award, which selects towns from the British Isles, include Hebden Bridge in West Yorkshire, Galway in Ireland and Richmond in North Yorkshire.
A small team from the Academy of Urbanism will visit Buxton in August to meet with the council, businesses and community groups.
Stephen Gallagher, communications manager for the Academy of Urbanism said: "We look forward to visiting and learning more about Buxton and also finding out who will be crowned winner."