Derbyshire brain injury marine Thomas Birch wins damages appeal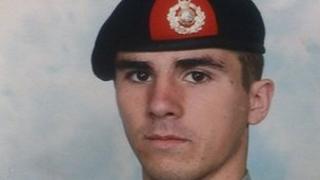 A Royal Marine who had to learn how to walk and talk again after plunging off a cliff in a Land Rover in Afghanistan has won his fight for damages.
Thomas Birch, from Heanor, Derbyshire, was an 18-year-old lance corporal in Helmand in 2006 when he lost control of the vehicle and fell 100ft (30m).
Mr Birch, now 25, suffered skull, brain and internal injuries in the crash.
The Court of Appeal ruled in favour of Mr Birch and his claim for compensation from the Ministry of Defence (MoD).
Charity award
He began legal action against the MoD last year, claiming that a fault in the vehicle was to blame and that he had been allowed to drive without a licence or military permit.
The High Court dismissed Mr Birch's claim for damages, finding that the crash could not be put down to a mechanical defect and ruling that he "must take responsibility for his own decision to drive".
On Friday morning, Lord Justices Longmore, Tomlinson and Lewison reversed the decision and entered judgement in Mr Birch's favour.
A figure for compensation is yet to be decided.
The Armed Forces Compensation Scheme awarded Mr Birch a lump sump of £318,000 and annual tax-free payments of £27,000.
However, Mr Birch's barrister Amanda Yip QC said these amounts would "only be a fraction of his entitlement" following the favourable ruling.
In 2009 Mr Birch won "achiever of the year" in brain charity Headway's annual awards.
He battled back from serious injury to qualify as a personal trainer.