RMT union urges Bombardier Crossrail contract deal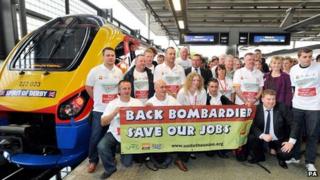 A union representing workers at train maker Bombardier has urged the government to ensure the firm wins the £1bn Crossrail contract.
The plea comes after the government confirmed the controversial £1.6bn Thameslink contract has been awarded to Siemens over the Derby company.
There had been hope there may be a U-turn in Bombardier's favour, as it took two years to sign the Thameslink deal.
Following the decision, in 2011, Bombardier cut 1,400 jobs.
'Pressing the government'
Ken Usher, from the RMT union, said it was vital Bombardier did not miss out a second time.
"If they don't get it, the future for Derby looks bleak because there aren't any major contracts coming up for a few years. We need that one to keep the business going."
Chris Williamson, Labour MP for Derby North, said: "As far as Thameslink is concerned, it's over.
"All our efforts now are going to be deployed in pressing the government to ensure the next big contract, which is for Crossrail, comes to Derby.
"We will be on the streets of Derby on Saturday gathering signatures for that, to send a letter to David Cameron, to make sure he does the right thing."
Last week, Derbyshire Dales MP and transport secretary, Patrick McLoughlin explained why the Thameslink contract had been awarded to Siemens.
"We had to look at what is the best contract overall for the British tax payer," he said.
"We live in an international arena. We have to be part of a global race."