Derby County's 'Mr Ramaway' dies, aged 97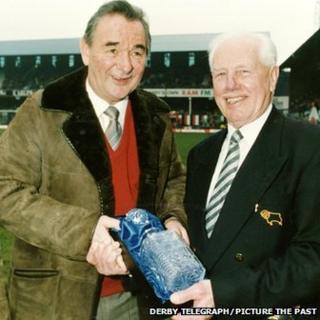 A Derby County fan who did not miss a home match for more than 80 years has died.
Ernie Hallam, who was known as "Mr Ramaway", was appointed supporters' liaison officer by Brian Clough because of his devotion to the Rams.
He saw every Derby competitive game in England and Europe, including reserve matches, for almost 40 years.
Over his lifetime, his family believe he watched the Rams play more than 5,000 times.
Mr Hallam was born into a family his son, Neil, described as "grindingly poor" in Pilsley.
'Lifelong passion'
He began working at the village pit as a 14-year-old.
In 1928 he went to stay with relatives in Derby and saw the Rams beat Blackburn Rovers 5-1 and Sheffield Wednesday 6-0.
"Football became his lifelong passion," said Neil Hallam. "He moved to Derby and, when he married my mother, they bought a house a few minutes from the ground."
Mr Hallam became increasingly involved with the club until, in 1967, Brian Clough asked him to organise the increasingly popular away trips.
"From then on, he went on all the away trips until he was nearly 90," Mr Hallam's son said.
"He became known for climbing on to the charter trains carrying an enormous suitcase containing badges and scarves, which he sold on behalf of the club."
'A real gentleman'
Mr Hallam became close to several managers, including Clough and Arthur Cox.
He was chosen to receive a lifetime clubman award from Brian Clough on the day he returned to the Baseball Ground as manager of Nottingham Forest. The clubs hoped the ceremony would ease tensions between rival fans.
He was present when The Queen opened Pride Park in 1997, breaking with protocol to approach her and say: "Lovely day for it, Ma'am."
He was briefly dropped from his hospitality role in 2003, when the club's directors appointed young women to be the official sponsorship hosts, but was reinstated following a supporters' campaign. He worked for the club until he was in his 90s.
Former chairman Peter Gadsby said: "Ernie had the run of the Baseball Ground. He was in the dressing room, in the manager's office and very respected managers had a lot of time for him.
"He was dapper and smart - a real gentleman."