Amnesty in Derby nets hundreds of weapons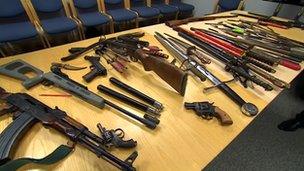 More than 280 weapons have been handed in at police stations in Derby during a month-long amnesty.
A Derbyshire Police spokesman said the weapon amnesty will help to make the city's streets safer.
Among the weapons recovered were illegal handguns, a World War II firearm and a crossbow.
All of the weapons will be destroyed, police said, except the World War II weapon which will be offered to a museum.
Fourteen swords, eight machetes and 230 knives were surrendered at police stations and at a mobile police unit during May.
Related Internet Links
The BBC is not responsible for the content of external sites.