Derby to get two city centre beaches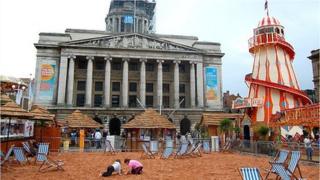 The success of Nottingham's "urban beach" has spread to Derby, which is to get not one, but two stretches of sand in the city centre.
The artificially-created beaches will be located in Derby Market Place and the River Gardens.
The Derby Market Place beach will open from 25 July to 1 August. It will have deckchairs, fairground rides and a Punch and Judy show.
The timing of the River Gardens beach has not yet been decided.
'Fun thing to do'
The Market Place beach will be known as "Derby By The Sea".
It will be created using two tonnes of sand and has been organised by the city council and Sight Support Derbyshire, a charity for visually-impaired people.
Eileen Bagguley, fundraising and communications manager, said the charity had been inspired to create the beach following the success of some of the other events they run.
"We spoke to Derby City Council and they were happy for us to go ahead," she said.
During the week, the charity will hold collections and will also receive a share of the profits from the funfair.
Ms Bagguley added she hoped the beach could become an annual event.
"Being at the seaside is such a fun thing to do," she said. "I just hope we have the weather for it."
The second beach was suggested by Derby's mayor Lisa Higginbottom after she was approached by a Twitter follower named "Darbados".
The River Gardens recently underwent a £620,000 refurbishment and Ms Higginbottom said putting a temporary beach in the area would be a good way of encouraging people to use it.
"It's an area we need to make the most of," she said.
The city council is now finalising the plans for the second beach.