Derby fire deaths: Philpott children remembered a year on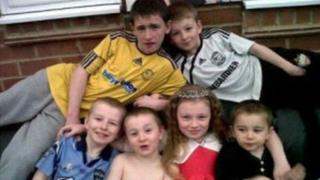 Six children killed by a house fire in Derby have been remembered in a church service and at a community event.
Mick and Mairead Philpott, the parents of the children, were jailed last month for manslaughter, together with their friend Paul Mosley.
Six white doves were released as part of a community day at Osmaston Park, held a year to the day since five of the children died.
The service took place at St George's Catholic Church.
It was held by Father Alan Burbidge, who conducted the children's funerals.
"The children are to be well remembered but also we want to pray for everybody of the extended family and those still grieving, the older children and the grandparents," he said.
A group of relatives and friends, including Mairead Philpott's father and Paul Mosley's brother, set off walking from Skegness on Tuesday and arrived in Derby for the Osmaston Park event.
They have been raising money for Catch Me When I Fall, a fund which has been set up to raise money for ill children.
Some former classmates of the Philpott children, from St George's Catholic Primary School, were among the children attending the church service.
People living near the former Philpott family home are due to be consulted about what should happen to it.
Councillor Baggy Shanker, of Derby City Council, said: "We've now taken legal possession of number 18 Victory Road and next week, following the anniversary of the tragedy, we will be starting a consultation with the local community."
One petition has called for the house to be demolished and replaced with a community garden.
But some people are concerned this could attract anti-social behaviour, or become some kind of shrine.
Another suggestion is to build new housing on the site.
Jade Philpott, 10, and brothers John, nine, Jack, seven, Jesse, six, and Jayden, five, died on the morning of the fire and Duwayne, 13, died three days later in hospital.
Mr Shanker said: "The memory of the children will never be forgotten by the local community.
"There's lots of family, friends, neighbours in the area who remember them. The actual physical site, we do need to move on with that."