Thorntons warehouse in Belper destroyed by fire and explosions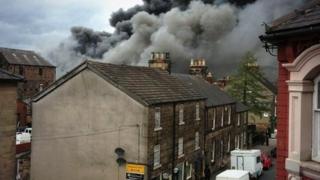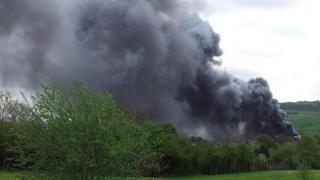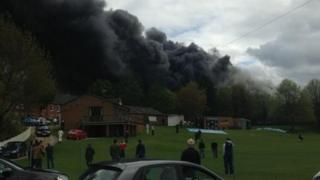 A fire and a series of explosions has destroyed a disused warehouse on the former site of the chocolate company Thorntons.
The explosions at the site in Belper in Derbyshire were caused by gas cylinders, the fire service said.
The building in Derwent Street was completely destroyed in the blaze, which started at about 15:30 BST.
A helicopter and two fire engines were at the scene and a county cricket match being played nearby was abandoned.
Derbyshire Fire and Rescue Service area manager Gavin Tomlinson said they were still working to determine the cause of the fire.
He said: "We have extinguished the fire. At this stage we haven't determined whether or not there was asbestos in the building.
"It was quite windy and the debris from the fire has been blown across people's gardens. If people see something they're not sure about, they should contact the police or the Environment Agency to get it removed."
Witnesses said the fire seemed to have taken hold rapidly.
Jan Martin, who lives in Belper, said: "I was upstairs and I heard what I initially thought was a rifle going off a couple of times."
'Chemical-like smell'
She added: "There was a mass of really thick black smoke spiralling up into the air. It smelled like burning plastic."
Belper resident Katy Bennett said: "We rushed outside and saw massive plumes of thick, black smoke and a chemical-like smell in the air.
"People on the school run could neither see where they were going nor breathe."
Cricketer Nye Norman, 22, was playing his debut for Derbyshire's second XI against Lancashire at Belper Meadows Cricket Club when the match had to be abandoned.
He said: "Police told us to stop playing because there was asbestos in the air. It was quite alarming.
"I've never played in a cricket match where that's happened before."
John Owen, a Derbyshire County councillor for Belper, said nobody had been evacuated from their homes.
A spokesperson for East Midlands Ambulance Service said a paramedic was passing the scene in a fast response car at the time and stopped to attend.
The ambulance service added that no-one had been taken to hospital.