Derby chimney body named as Kevin Gough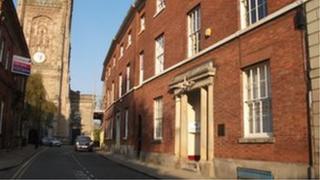 A suspected burglar whose body was found in the chimney of a law firm has been named by police as Kevin Gough.
The 42-year-old is thought to have been in the chimney at Moody and Woolley Solicitors, in Derby, for several weeks.
His body was discovered at about noon on Wednesday after staff raised concerns about flies and a smell at the office in St Mary's Gate.
An inquest is due to open at Derby Coroners Court later.
'Very sad'
Martina Longworth, a partner at the firm, said: "It must have been quite a terrible way to die for the poor man and it must be very distressing for his family.
"We would be most concerned for them. It's very sad."
Damage to the building was first noticed six weeks ago when builders believed there had been an attempted break-in.
The builders called in by the firm found a hole in the roof.
Staff claimed the buildings on the street have been targeted by lead thieves in the past.
Police said Mr Gough had no fixed address and they are not treating his death as suspicious.