Trapped pub landlord criticises Derbyshire council for selling gritters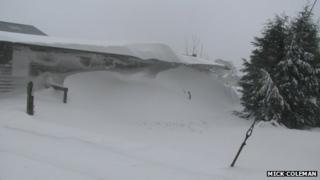 A Derbyshire landlord trapped in his pub for five days by snow drifts has criticised the county council for selling its gritters.
The Bull i'th Thorn pub between Buxton and Ashbourne, Derbyshire was closed in March after 20ft (6m) of snow covered the building and made roads dangerous.
A Freedom of Information request has now confirmed the council had auctioned off three gritters.
The authority said it had changed the way it grits so needed fewer vehicles.
Landlord Mick Coleman said: "The circumstances were very extreme but I'm still surprised they (the council) thought it was a prudent decision to sell off gritters.
"It is not a decision I would have made and if we have another hard winter next year they may be in a position of having to buy more gritters to cope with it."
Figures obtained by BBC Radio Derby showed three vehicles have been sold at auction by the council since 2008-9. One was sold for more than £9,000 while the others fetched between £5-6,000.
Derbyshire County Council said their fleet had been reduced from 57 to 50 in the last five years.
'Nothing was done'
Jeanette Flanagan from the Jug and Glass in Buxton, which housed stranded motorists for several days, said: "Had the gritters started when the snow hit they (the council) would have been able to maintain a better pathway through.
"We should have seen vehicles, gritters, snow ploughs out there helping to keep the road open as long as possible but nothing was done about it."
Neil Hickman, the council's assistant director of highways said they had a network of 75 farmers who helped clear snow in bad weather.
"We are changing vehicles all the time so it is not strange that we get rid of vehicles but the thing we didn't do was replace them," he said.
"If we get a hard winter it is almost impossible for us to gear up for it and the extent of the snow this year was such that the gritters would not cope without some assistance.
"We would need excavating equipment which is what we used on that road this time."