Monyash village common toads 'need crossing'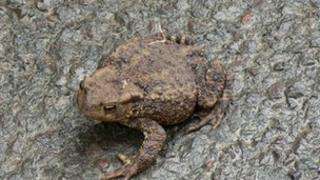 Wildlife campaigners are calling for a "toad crossing" in a Derbyshire village after hundreds of the creatures have flocked to a pond to breed.
The common toads have been crossing the B5055 in Monyash, from the fields where they have spent the winter.
Although large toad migrations are often seen at the end of winter, it is less common for them to take place in built-up areas.
Simon Corble, a Natural England volunteer, asked drivers to be alert.
'An incredible thing'
Mr Corble, who lives in Monyash, said: "The toad migration happens every year but it's a little later than usual because of the cold weather.
"The toads head to the village mere to breed, normally at dusk. Then, in July, we see baby toads start heading back from the mere to the fields. It's an incredible thing. "
Mr Corble and four other volunteers from the village have been working to transport the toads across the road in buckets.
"Inevitably there have been some casualties as a result of the traffic through the village," he said.
Mr Corble is working with the charity Froglife to register the site as a migratory crossing.
The village will then be able to apply for road warning signs from the Department for Transport, which will be displayed between April and July.