Derby fire deaths: Philpott home to be demolished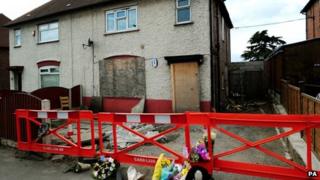 The house in which six children died in a blaze started by their parents is to be demolished.
Derby City Council plans to demolish the home in Victory Road after Mick and Mairead Philpott, and their friend Paul Mosley, were jailed for the children's death.
Ward councillor Baggy Shanker said it could either become a memorial to the youngsters or be used for new housing.
Neighbours in the area will be asked what they would like in its place.
'Don't want memories'
Mick and Mairead Philpott were jailed on Thursday along with their friend Paul Mosley for starting the fire in a plot to frame a former mistress and get custody of her children.
Mick Philpott, 56, was given a life sentence for manslaughter and told he would serve a minimum of 15 years in prison.
Mairead Philpott, 32 and Mosley, 46, were told they would each serve half of a 17-year sentence.
Mr Shanker said the council is now going through the process of buying the neighbouring semi-detached house.
The intention is then to knock both down but it is not yet known what will replace the home.
"There are some in the community who would like us to create a memorial garden for the children," Mr Shanker said.
"But there are many who don't want the memory of what happened so close to home, what they would like to see is more residential."
'Pulled together'
The council has already created a memorial in a play area in nearby Tennyson Street where a piece of equipment has been named for each of the six children.
The community is now hoping it can move on, and is growing weary of being in the media spotlight, Mr Shanker said.
"There's a sense of satisfaction at the verdicts but they want to draw a line under the whole thing," he said.
"This is a close knit community which, right from the beginning, has pulled together for support."
"The memory of the children will live on forever."