Derby fire deaths: Mick Philpott 'no right-minded father'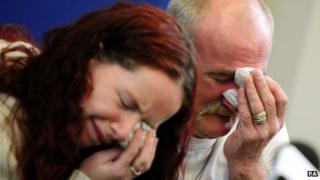 "No right-minded father would set a fire with his children inside."
Prosecution barrister James House, speaking ahead of the trial, neatly sums up the challenge which faced detectives and prosecutors in proving who started the fire which killed six children at their home in Derby.
But when investigations got under way, police soon uncovered the motivating factors: a combination of ego, money and sex.
The five youngest children - aged five to 10 - died in their beds, killed by the toxic smoke. The eldest, who was 13, died two days later, also from the effects of breathing in smoke.
Later, a jury had to be convinced those responsible were the parents - Mick and Mairead Philpott. They had already faced the nation's media at a press conference, apparently overcome with grief.
In the build-up to the fire there had been three months of domestic disharmony at the family's home - a semi-detached house on a busy route used by thousands of workers every day to commute to and from the nearby Rolls-Royce factory.
'Controlling and manipulative'
Until last year, as well as Mick and Mairead and their six children, 18 Victory Road had also been home to Mick's mistress Lisa Willis and her five children, four of whom were Mick's.
Yet by February last year she had left - taking her five children with her. She blamed Mick's controlling and manipulative behaviour for her decision to go.
Mr House said: "There was evidence Mick Philpott was not prepared to accept Lisa Willis was leaving him and taking his children with her.
"He wanted Lisa Willis back and wanted to get the children back. He told a number of witnesses he had a plan."
That plan was to make it look like Lisa, or someone connected to her, had set fire to his house - just hours before she and Mick were due in court over custody of their kids.
One senior detective expressed it in even stronger terms to the BBC.
'Obsessed with sex'
He said: "Mick never got over Lisa leaving him. And he'd lost five child benefits [through his children by Lisa] and five people who worshipped him.
"Lisa leaving led to him losing his status, his ego, his money and another route into sex - he's completely obsessed with sex."
Within days of the fire the Philpotts had become suspects. Permission was granted for the police to bug their hotel room.
Officers heard Mick and Mairead discussing the fire and the police investigation.
"You make sure you stick to your story," he said to her, the night before she gave a witness interview to officers.
After their arrest and charge, "sticking to the story" was a phrase heard exchanged again between the pair. This time in the police van that took them to their first court appearance.
They told the trial that was only in reference to not telling the police about details of their sex life - dogging and three-way sex with their friend Paul Mosley.
By last November he too had been charged over the deaths. Forensic scientists found traces of petrol on the Philpotts' clothing and similar results for Mosley.
He had been at the Philpotts' house on the night of the fire and had sex with Mairead on a snooker table, with the support and encouragement of her husband.
Attempted murder conviction
Mick Philpott had been happy to discuss his domestic arrangements with a national TV audience in the past.
After making press headlines in 2006, when he was calling for a bigger council house, he'd gone onto ITV's The Jeremy Kyle Show.
He'd told that programme he couldn't get work because of his criminal record - a conviction that the judge in the Derby fire case ruled that the jury couldn't be told about.
In July 1978, he was 21 and his former girlfriend, 17. She ended their relationship; He attacked her with a knife as she lay in bed.
Philpott then turned on her mother when she intervened and was later jailed for seven years for attempted murder and grievous bodily harm (GBH) with intent.
"His concern about the impact of his previous conviction on the family hearing led to the plan. Therefore, it was one of the prime reasons behind his plan and the evidence to support it," Mr House added.
"Mick Philpott is precisely the sort of character who would act in this way."