Former Long Eaton soldier jailed for BB gun threat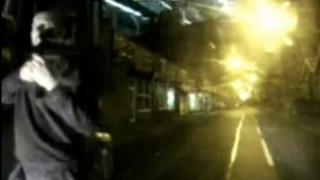 A former soldier who terrified bus passengers by pointing a replica gun at them has been jailed for five years.
Ian Kinney, 38, of William Street, Long Eaton, pleaded guilty to possession of an imitation firearm with intent to cause fear of violence.
Kinney said he had been drinking at home on 30 November before he walked around the Derbyshire town with a BB rifle.
Police said Kinney put "fear into the hearts and minds of innocent people".
'Struck fear'
Nottingham Crown Court heard Kinney, who served in Bosnia and Northern Ireland, had pointed the weapon at motorists before turning it towards a bus full of passengers.
CCTV footage released by Derbyshire Police showed the bus driver reversing as Kinney pointed the gun at the windscreen.
Armed officers were sent to the scene and a rubber bullet was fired at Kinney before he surrendered.
Speaking after sentencing, Det Insp Emlyn Richards said: "By brandishing this weapon in public, Kinney struck fear into the hearts and minds of innocent people who were simply going about their business.
"Although it turned out to be an imitation gun, the people involved were not aware of that and were no less terrified than if it had been real."