Derby fire deaths: Three guilty of Philpott children's deaths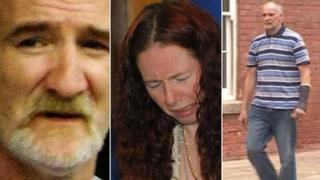 The parents who started a blaze which killed six children as they slept have been convicted of their manslaughter.
Mick and Mairead Philpott, and friend Paul Mosley, were found guilty of starting the fire in Derby to frame a former mistress in a custody battle.
The jury at Nottingham Crown Court returned unanimous decisions on Mosley and Mick Philpott while Mairead Philpott was convicted by a majority.
A senior police officer said it was the most tragic case he had worked on.
Five of the Philpott's children died in their home in Victory Road and the sixth, from a previous relationship, died in hospital.
'Violent and controlling'
Derbyshire Assistant Chief Constable Steve Cotterill said: "There are six little kids there that have not got the chance to grow up.
"Personally I have found it very upsetting. I have become extremely angry at the needless loss of life."
Five of the children died on the morning of the fire in Victory Road, and the sixth died three days later.
Jade Philpott, 10, John, nine, Jack, eight, Jesse, six, and Jayden, five, died on the morning of the fire on 11 May 2012.
Mrs Philpott's son from a previous relationship, 13-year-old Duwayne, died later in hospital.
Jurors heard that Philpott had been violent and controlling towards his former live-in mistress, Lisa Willis.
When she left, taking her children, he became "obsessed with getting Lisa and the kids back".
He started the fire in a bid to frame her for the crime and win custody of the children - and perhaps obtain a bigger house - the prosecution argued.
Prosecutor Richard Latham QC said the plan had "gone completely wrong" within two minutes because the fire was far bigger than the defendants expected.
The court heard the trio planned to get all six children into one bedroom at the back of the house where they could be rescued through a window using a pre-placed ladder.
Jurors were told that Philpott was to "act the hero and victim", rescuing the youngsters and framing Ms Willis in the process.
But they were not told that he had a violent past - he was jailed in 1978 for attempting to murder a 17-year-old ex-girlfriend.
He stabbed her 13 times as she lay sleeping after she ended their relationship, and also attacked her mother when she intervened.
The three defendants were found guilty after less than eight hours of deliberation.
The judge, Mrs Justice Thirlwall, said the defendants would be sentenced on Wednesday.
As the court heard the guilty verdicts, Mairead Philpott looked down at the floor and appeared upset while holding a tissue in her hands.
Before leaving the dock, Mick Philpott was heard to say: "It's not over yet."
'Six angels'
In a statement read outside the court, Mick Philpott's sister Dawn Bestwick said: "Our presence in court was to find out the truth and following today's verdict we believe justice has been done.
"This past year has been a very difficult time for our family as we have had to come to terms with what Mick and Mairead and Paul Mosley have done. We can now move on and our six angels can rest in peace."
A statement read on behalf of the Duffy family, the family of Mairead Philpott, said: "Duwayne, Jade, John, Jack, Jesse and Jayden were taken away in the cruellest way imaginable by the very people that were supposed to love and protect them.
"We, Mairead's family, cannot describe the pain we feel. Today justice has been done and we are happy with the verdict."
Samantha Shallow, of the Crown Prosecution Service, said it had been a "challenging and harrowing case to prosecute".
A serious case review is being carried out by the Derby Safeguarding Children Board into the deaths but there have been no urgent recommendations to emerge so far from the process.
The children were not subject to child protection plans or legal orders. The review is not due to be completed before the summer.
When asked if the tragedy could have been foreseen, ACC Cotterill said: "My answer is a very emphatic no. What we are dealing with is the unpredictability of Mick Philpott."