Derby fire deaths: Mairead Philpott 'abused by her father'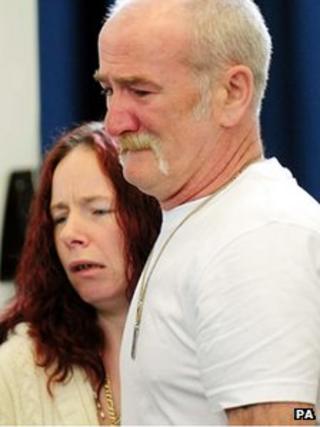 A woman accused of the manslaughter of her six children in a house fire has told jurors she was abused by her father as a child.
Mairead Philpott also said she was raped while on holiday as a teenager and was at "rock bottom" when she met her future husband Michael Philpott.
Mrs Philpott told Nottingham Crown Court she did not plan or set the fire in Derby and did not see her husband or co-accused Paul Mosley start it.
All three deny manslaughter.
Shaun Smith QC, defending Mrs Philpott, asked her about the abuse by her father, alleged to have happened when she was three or four.
"I was abused by my dad then he moved on," she said.
The father of her first child left her when she told him she was pregnant, aged 16.
She told the court her next relationship was an abusive one, with her boyfriend giving her black eyes and shaving off her hair so she could not go out.
She said Mr Philpott, known as Mick to friends, was her "guardian angel".
"He cared for me and loved me and made me feel safe," she said.
'Unconventional' lifestyle
She said she agreed to her husband's relationship with live-in mistress Lisa Willis because she was scared of losing what she had.
"I loved him and didn't want to lose the family we had," she said.
Asked what she thought of the unconventional lifestyle, Mrs Philpott replied: "Maybe to others it was [unconventional] but to us it was a happy family."
The jurors heard how Mrs Philpott enjoyed being with the children but in the year before the fire, she was doing more around the house while Miss Willis was with her husband in a caravan at their home.
Mrs Philpott said she had had sex with other men in the year before the fire and that it was her idea.
She told the court she and her husband went dogging three or four times and that Mr Philpott would encourage it and get involved.
The court also heard Mrs Philpott and her husband had threesomes with co-defendant Paul Mosley on a number of occasions, "to please Mick, to make him happy".
'Sticking to story'
Mrs Philpott said she felt ashamed and disgusted about having sex with Mr Mosley and her husband on their snooker table hours before the fatal house fire on 11 May.
Asked if she had absolutely anything to do with the death of her children, Mrs Philpott replied: "No."
She described the moment she found out her children were dead at the hospital as "having her insides torn out".
Mr Philpott finished giving his evidence earlier, after more than three days in the witness box.
His barrister Anthony Orchard QC asked why Mr Philpott had talked of "sticking to the story", during secretly-recorded conversations with his wife.
Mr Philpott said he was referring to details of their private life - which included sex in public and threesomes - which he did not want to be revealed.
The court also heard from George Cobbledick, Mr Philpott's cousin, who told jurors he heard Lisa Willis say she would rather "burn" the defendant than allow him to see the children he had fathered with her.
But Mr Cobbledick, who was formerly the boss of Miss Willis, told the court that because she was angry he took her comment to be a figure of speech.
Jade Philpott, 10, John, nine, Jack, eight, Jesse, six, and Jayden, five, died on the morning of the fire.
Mrs Philpott's son from a previous relationship, 13-year-old Duwayne, died in hospital.
The trial continues.