Clough and Taylor: Football legends' families to join in run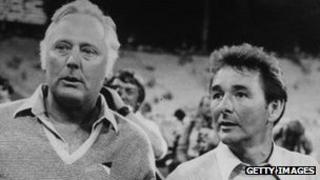 The son of football legend Brian Clough and daughter of his assistant Peter Taylor are both taking part in a 10km race in their memory.
The first Clough Taylor People's Run at Donington Park in Leicestershire on Sunday will raise money for four charities.
The management duo led both Nottingham Forest and Derby County to success.
Taylor's daughter Wendy Dickinson said the event would bring fans of the two clubs together.
'Great walker'
Mrs Dickinson will be joining Brian Clough's son, Nigel, who is Derby County's current manager, at the racing circuit.
She said: "I have been out training - shuffling around - I will be walking it, not running it."
The four main charities to benefit will be Nottingham Hospitals Charity for Pulmonary Fibrosis Research, Hope Against Cancer, Cerebral Palsy Sport and Muscular Dystrophy.
Mrs Dickinson added: "My dad was a great walker - walking was one of the passions of his life and Brian raised a lot of money throughout his life through sponsored walks.
"The disease [pulmonary fibrosis] that killed my dad robbed him of his ability to walk.
"I have marked out a 10km route in the village and have been dragging all my friends out with me."
Former Forest star Garry Birtles, who will also attend the event, said: "It was a delight to go in every day [to City Ground] and work under the two of them.
"I don't think enough has been done about Brian and Peter to celebrate what the two of them have done for the East Midlands."
Together the pair steered Derby County out of the old Division Two in 1969, and three years later won the first division title.
After a dispute with the board of directors, Clough and Taylor left the club in 1973.
With Nottingham Forest, Clough and Taylor won the European Cup twice, in 1979 and 1980.