Death blaze dad Mick Philpott 'laughed and joked'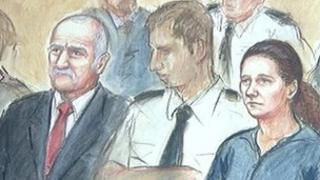 A father accused of killing his six children in a house fire joked about the night of the blaze to a police officer, Nottingham Crown Court heard.
Mick Philpott, 56, was described as "jovial" by PC Joanne Halford when she spoke to him at Royal Derby Hospital a week after the fire on 11 May.
Five children died in a fire at their home in Victory Road, Allenton, Derby. A sixth child died three days later.
Mr Philpott, wife Mairead, 31 and Paul Mosley deny six counts of manslaughter.
Laughing and joking
PC Halford told jurors: "He was laughing and joking about the incident saying that when he was trying to rescue the children he had took his chance to hit out at two coppers trying to hold him back.
"He was jovial, laughing and jolly."
She said Mr Philpott told her he believed his neighbour was responsible for the fire because he had borrowed a strimmer and petrol can but not returned it.
The court was also told Mr Philpott arrived at the hospital with Paul Mosley's brother, Brian, who said: "Don't you know who he is? He's Mick Philpott, father of the six dead kids".
She said the statement seemed like a "badge of honour".
The three are accused of starting the fire to frame Mr Philpott's former mistress Lisa Willis, 29, in a row over custody of their five children.
Nottingham Crown Court also heard on Wednesday from bingo players who said they overheard Paul Mosley talking about "handing himself in" to police last June.
Helen Armstrong told the court she overheard Mr Mosley say in a smoking room at Gala Bingo in Derby: "I think I should hand myself in".
Ms Armstrong's friend Thomas Hannafin, who was also at the bingo hall, also said that he overheard the conversation.
Mr Hannafin said: "He said 'I might go and hand myself in. I can't let Mick take all the blame.' "
The court also heard Mr Mosley offered his cousin Steve Owen £10,000 to get him "out of" Derby when he saw him last year.
Mr Owen told the court he had had little contact with his cousin since 2001 but had seen him in the street in Alvaston in September.
"He told me he never did anything but that he knew more than the police knew about it", he told the court.
He said he went to police after seeing news reports that Mr Mosley had been charged.
Jade Philpott, 10, John, nine, Jack, eight, Jesse, six, and Jayden, five, died in the fire. Their brother Duwayne, 13, died later in hospital.
The trial of Mick and Mairead Philpott, formerly of Victory Road, and 46-year-old Paul Mosley, of Cecil Street, Derby, continues on Thursday.