Arriva ordered to give free bus trips by traffic commissioner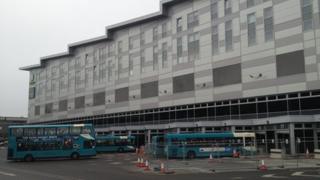 A bus company has been ordered to give free transport on some of its services for 12 months under new legal powers.
There was a public inquiry after Arriva changed evening routes between Alvaston and Derby without telling customers or the area's traffic commissioner.
The buses should have terminated at Derby bus station but instead stopped 150 metres away in Albert Street.
The order will take effect on 1 March. Arriva said it has now ensured the services operate as they should.
Beverley Bell, North West traffic commissioner, said she had made the order partly because "matters were still not put right" at the time of the public inquiry.
She said: "Passengers reliant on public transport have to fit their schedules into and plan their diaries around the bus services that they use.
"They must therefore be given the proper notice to allow them to plan in the event of any alterations."
She added that the "age or infirmity" of some passengers would have made walking the extra distance "difficult, lengthy and painful", particularly in the dark.
The new powers were given to all traffic commissioners by the Local Transport Act 2008.
The decision means Arriva will not be able to charge passengers who use the 44 and 45 services in the evening, providing they are due to arrive in Derby after 19:00.
'Not inconvenienced'
The traffic commissioner's office initially received a complaint from a passenger in July.
Timetables still showed the terminus as Derby bus station but buses were stopping on Albert Street.
Mrs Bell's office wrote to Arriva but was not satisfied with the response.
A public inquiry was held on 14 December.
Arriva said it changed the services from 9 January 2011 so buses terminated on Morledge, just 15 metres from the bus station.
Arriva argued "customers would not have been inconvenienced or confused by the difference".
The terminus was changed to Albert Street about five months later.
Mrs Bell said there was "no good reason" for the changes.
She added: "The revenues had been falling and Arriva took a commercial decision to feed the service into another route thereby reducing the number of buses that they had to put on the road."
An Arriva spokesman said the company accepts errors were made.
"We have now ensured that these services operate exactly to the actual registration and, following a full review, have introduced measures to ensure this does not occur in the future," he said.