Derby fire deaths: Mick Philpott 'said former mistress was evil'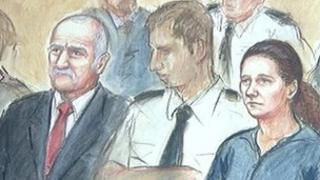 A father accused of the manslaughter of six of his children in a house fire described his former live-in mistress as evil, a trial has heard.
Michael Philpott is alleged to have started the fire at his home in Derby to frame former mistress Lisa Willis during a custody battle.
Mr Philpott, his wife Mairead and friend Paul Mosley deny manslaughter.
Social worker Sheila Mosley told their trial that Mr Philpott claimed Miss Willis was violent.
He also claimed to be scared of Miss Willis, Ms Mosley told jurors at Nottingham Crown Court.
Ms Mosley said Mr Philpott, known as Mick to friends, told her: "I never thought she [Lisa Willis] would turn out to be the evilest person in the world."
'Suicide attempt'
Ms Mosley was the social worker dealing with the custody battle between Mr Philpott and Miss Willis, who had four children together.
Mr Philpott told her he attempted to kill himself by drinking brandy and taking pills after Miss Willis left, the court heard.
Mr Philpott also claimed Miss Willis would get violent when she had been drinking, the social worker said, and once broke his nose during a play fight.
Jurors have previously heard Mr Philpott was violent and controlling towards Miss Willis.
The day before the fatal fire, Mr Philpott allegedly told several people at the school gates he had a plan to get his children back.
Giving evidence, Seaneen France claimed Mr Philpott told her: "I've got a plan, I've got something up my sleeve. She's not getting those kids."
Neighbour Chantelle Harriet told the court about one occasion when Mr Philpott flashed his phone around "boasting and bragging", saying Miss Willis had threatened to set his house on fire and he had it all on his phone.
The court also heard from the first police officers on the scene.
Pc Steven Slater said: "There was a lot of sirens, people shouting. It seemed like utter chaos, to be honest."
He said he saw Mr Philpott run over to the emergency services staff working on the children who had been dragged from the burning house.
He told the court: "I believe there were a few on the street. Firefighters appeared to be working on them and trying to give them first aid.
"I believe he dropped to his knees. He was in a very upset state, obviously very distressed."
Jade Philpott, 10, and her brothers John, nine, Jack, eight, Jesse, six, and Jayden, five, died in a fire at their home in Victory Road, Allenton, on 11 May.
Their brother Duwayne, 13, died three days later in hospital.
Mr Philpott, 56, Mrs Philpott, 31, both formerly of Victory Road, and Mr Mosley 46, of Cecil Street, Derby, deny six counts of manslaughter.
The trial continues.