Up'ards ahead in Ashbourne's Shrovetide football game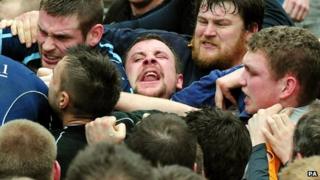 As the first day of the annual Shrovetide football game drew to a close in the Derbyshire town of Ashbourne, the Up'ards are believed to have 'goaled' - or scored.
Hundreds of players battled in the streets to get the hand-painted, cork-filled ball to goals three miles apart.
The game - which began at 14:00 GMT on Shrove Tuesday - is played over two days. It will finish on Ash Wednesday.
Dave Spencer was said to have goaled at Sturston shortly after 21:00 GMT.
He was the first goaler of the day.
The game's players are divided into two teams - the Up'ards and the Down'ards depending on whether they were born north of the River Henmore (Up'ards) or south (Down'ards).
Shops boarded up windows and businesses closed early ahead of Tuesday's action.
Local builder John Tomkinson "turned up" the ball to begin the game's first day.
Butcher Nigel Brown is due to take that honour on Wednesday.
One of the few rules of the game, which resembles a disorganised rugby scrum, is not to murder opponents.
Tap three times
Tina Martin, who sells Shrovetide memorabilia in her shop, Crew Deck, said many people return year after year - even though the event can be "baffling" to understand.
She said: "I've listened to conversations outside the shop and you can hear people saying 'What on earth is going on?' They don't understand what's happening."
Before each match begins, about 500 people sit down to a Shrovetide lunch and listen to speeches.
Goals are mill wheels set in huge stone plinths on the banks of the Henmore Brook at the sites of two former mills.
To score, a player must stand in the Henmore and tap the ball three times against the wheel.
Scoring means you will be carried back into the town by your team shoulder high and cheered by hundreds of spectators.
The game received royal assent in 1928 when the Prince of Wales, later Edward VIII, threw the ball.
Prince Charles started the game in 2003.