Dean Gaffney in Derby hospital after car crash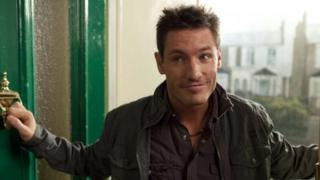 Former EastEnders star Dean Gaffney is in hospital after suffering head injuries in a car crash in Derby.
The 34-year-old actor was returning home from Wednesday's production of A Murder Is Announced when the accident happened, Derby Theatre's manager said.
Gaffney is recovering at the Royal Derby Hospital. His injuries are not thought to be life-threatening.
Police said a car struck the central reservation on the A38 at about 22:45 GMT on Wednesday.
'Really sad'
Gaffney, who played Robbie Jackson in EastEnders, is starring in the Agatha Christie murder-mystery at Derby Theatre.
The accident happened on the A38 southbound close to the Markeaton Island. The stretch of road remained closed for three hours to recover the Mini.
Manager Gary Johnson said he understood Gaffney was in a serious condition.
He said: "We are just really sad to announce we understand there was a car accident that happened last night which Dean Gaffney was involved in.
"After the performance had finished yesterday evening on his way home we understand the accident happened."
'Wish him the best'
Ian Dickens Productions and Derby Theatre said they had spoken with the cast and will go ahead with the rest of the performances.
In a joint statement they added: "Our thoughts are with Dean and his family and we wish him all the best for his continued recovery over the coming days."
A spokeswoman for Derbyshire Police said: "We can confirm that a 34-year-old man was involved in a collision on the A38 at around 22.45 GMT last night.
"There was just one car involved that hit the central reservation.
"He was taken to Royal Derby Hospital where he received treatment for head injuries but those injuries aren't thought to be life-threatening."