Squash Falconer bids to fly off Mount Kilimanjaro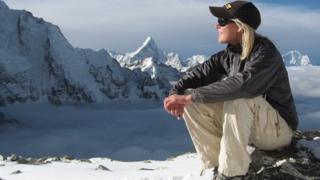 A paraglider from Derby is attempting to fly from the summit of Mount Kilimanjaro to raise money for projects in Tanzania.
Squash Falconer, from Thulston, was the first woman to fly from the summit of Mont Blanc.
She is now one of about 100 paragliders who have been given official permission to jump from the 5895m (19,340ft) peak and is expected to do so next week.
The Wings of Kilimanjaro project aims to raise $1m for African charities.
Miss Falconer said: "It's an amazing thing to do - I've climbed mountains before and successfully flown off them - but this trip has got something extra special.
"I'm joining together with so many other wonderful people to raise all this money to make a difference."
In 2011, Miss Falconer made an attempt to fly from the summit of Mount Everest - but after successfully climbing the mountain, weather conditions prevented her from taking-off.