Derbyshire commissioner Alan Charles: Police tax precept to increase by 2%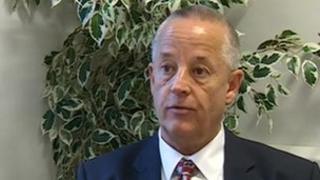 The police council tax precept in Derbyshire must rise to avoid taking officers off the street, the county's new police and crime commissioner said.
Police commissioner Alan Charles said the tax rate in the A band will increase by just under 2%.
"If I don't raise tax then I will have to cut policing and I can't accept that," Mr Charles said.
In Leicestershire, police commissioner Clive Loader said he aims to freeze the tax precept for at least two years.
Tax freeze
Mr Charles said: "I am going to the maximum increase I can without triggering a referendum which is 1.96% - in cash terms for a Band A house the increase will mean just over £2 a year.
"It is a small amount to maintain policing and safety in Derbyshire."
He said the increase in Band D would amount to an extra £3.21 a year.
The final police budget will be set by the police commissioners at the end of January.
"The government have given us grants - called council tax freeze grants - but they are only for one or two years. But when that ends it gives me a massive problem," Mr Charles said.
"When we get to 2016 - I get to the situation where I will have to lose police officers off the streets of Derbyshire - and I can't accept that."
Mr Loader said: "We can deliver the same number of police officers without increasing the budget. It is not easy but it is deliverable."
The police commissioners have the powers to hire and fire chief constables, set police force budgets and commission some criminal justice services.