Peak District: Chapel Gate protest over vehicle ban proposal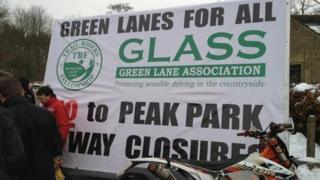 A vehicle users group has been protesting in the Peak District over plans to ban 4x4s and trail bikes.
An experimental order by the Peak District National Park Authority to stop them using unsurfaced lanes on Chapel Gate was overturned in November.
The Peaks & Derbyshire Vehicle Users Group said the protest reinforced their opposition to any future "destruction of public rights to use the park".
The court's ruling was based on repairs made to the route, the authority said.
It added that a meeting to discuss the High Court decision in favour of the Trail Riders Fellowship (TRF), and any further plans for the possibility of vehicle regulation, had been moved to March.
Vehicle ruts
A TRF spokesman who was in attendance said "several hundred" protesters had formed the rally on Friday morning in Bakewell, Derbyshire.
The TRF also said the High Court judge ruled the experimental order "had no rational basis".
Group spokesperson Richard Simpson said it held a demonstration in the car park at Aldern House "to make it plain ... it remains resolutely opposed to the further destruction of public rights to use the park".
He also said an open letter from the group to the park authority requested a "more equitable" way of doing things, and that the group would be undertaking further protests in the area throughout the day.
The authority said its report had been "put back" to a later committee meeting to allow more time for initial consultation responses to be analysed.
It said all the consultation information on the original order was now out of date, and information about possible vehicle regulation on the route in the future had to be collected again.
The authority has said vehicle ruts and mud are a deterrent to walking, cycling and horseriding on Chapel Gate. The 3km route runs over moorland from near Chapel En Le Frith towards Edale.
A spokesman said the main reason for the judge's decision was the county council had made repairs to the route which meant the road's surfaces were not the same throughout the experiment's course.
She also described the protest, which took place in freezing conditions in a snowy car park, as "peaceful and friendly".