Heanor Autosplice factory to close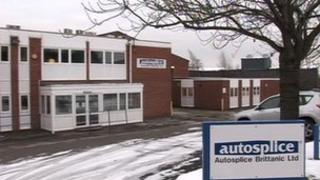 A factory in Derbyshire has announced it is to close with the loss of 85 jobs.
Car components firm Autosplice in Heanor told staff it would be shutting its site in the Amber Valley in September and moving to Germany.
General manager Andy Tomlinson said workers had been given the option of relocating to the sister plant in Langenzenn, Germany.
The US firm opened its factory in Derbyshire in 1987.
It also has factories in North and South America and across parts of Asia.
'Very disappointed'
Specialising in insert moulding, metal stamping and plastics, the company supplies to several car manufacturers in the West Midlands, north east England and south Wales.
Mr Tomlinson said some positions for UK staff would be available in Germany.
He said: "The company has been going for 25 years and some people have been with the company for a number of years so this is very shocking.
"This is a strategic decision to have one manufacturing site within each continent globally.
"We are very disappointed this is happening in the UK but there has been a lot of thought on how to consolidate operations together with Germany and unfortunately employment laws are not as strict in the UK which makes us a much easier target."
A consultation with staff has already begun and Mr Tomlinson said as well as "enhanced redundancy payments" workers would be given help with finding work.