Derby Museums cash appeal for Joseph Wright paintings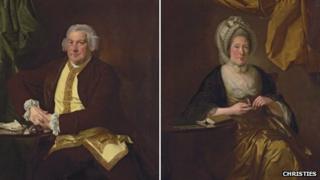 Derby Museums has appealed for help to raise £11,000 to buy two paintings by the 18th Century Derby artist Joseph Wright.
The Museum Trust has already collected £111,000 to buy the portraits of industrialist Francis Hurt and his wife Mary, from a private collection.
Francis Hurt was a key figure in the economic development of Derbyshire.
Stuart Gillis, from Derby Museums, said the paintings are an important part of the city's heritage.
"The purchase is incredibly important to the people of Derby and Derbyshire," said Mr Gillis.
"Wright lived and worked in Derby all of his life and his name is as synonymous to the city, like Lowry is to Lancashire and Constable to Suffolk. "
The Museum Trust has until 31 March to complete the fund-raising.