Charity run for Brian Clough and Peter Taylor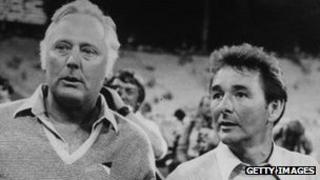 A new charity run has been set up in honour of the former Derby County and Nottingham Forest manager Brian Clough and his assistant Peter Taylor.
The first Clough Taylor People's Run will be held at the Donington Park race track, in Leicestershire, on 10 March.
Organiser Jim Cowan said the 10km event would raise money for four charities.
Brian Clough and Peter Taylor had enormous success with the two East Midlands clubs.
Together they steered Derby County out of the old Division Two in 1969, and three years later won the first division title.
After a dispute with the board of directors, Clough and Taylor left the club in 1973.
The fans have never forgotten the pair's impact at Derby, and a bronze statue of them was erected outside the Pride Park stadium in 2010.
With Nottingham Forest, Clough and Taylor won the European Cup twice, in 1979 and 1980.
Four charities including CP Sport, Hope Against Cancer, Muscular Dystrophy Campaign and Pulmonary Fibrosis Research will benefit from funds raised on the day.