Derby City Council announces another 60 jobs could go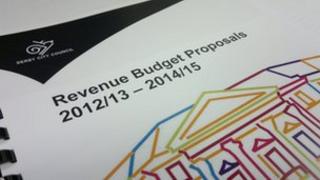 Another 60 jobs could go at Derby City Council to help make more savings.
In December, 206 staff were made redundant but the authority said it was not enough.
Council leader Paul Bayliss said he was "extremely frustrated to be in this position".
Unions and staff were told on Monday that some teams will go through a restructuring process, with the risk of compulsory redundancies if the council did not get extra government funding.
Mr Bayliss added: "It is a sad fact that to achieve our savings targets we are going to have to go through a process of compulsory redundancies.
"We have approached the government to ask for a fair deal for Derby and will continue to argue our case in the strongest possible terms."
Mr Bayliss said the council would "explore other alternatives" before compulsory job cuts were made.
Last year Derby City Council said it needed to reduce its budget by £63m by 2015.
'Worst case scenario'
If the latest redundancies go ahead it will take the total number of job cuts at the council to more than 1,000 in three years.
Martin Rawson, cabinet member at Derby City Council, said: "This is very much a worst-case scenario and we will be doing everything we can to ensure any further redundancies are voluntary.
"If any staff have to leave through compulsory redundancies it will be extremely sad for those individuals and for the council to lose those very valuable expertise and knowledge."
The cabinet will consider feedback from consultation on 23 January and make final recommendations to full council on 30 January.