Derby ring road works could cause six months disruption to motorists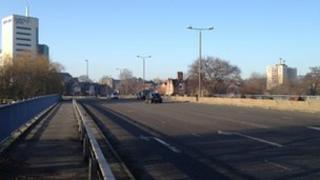 Motorists in Derby face six months of disruption as work starts to improve a major road in the city.
Maintenance work on the St Alkmund's Way section of the inner ring road begins on 21 January and is expected to last until June.
The city council has warned motorists to expect some delays but said efforts would be made to reduce disruption.
The work, costing around £1.2m, is being done to refurbish the busy route and install new lighting.
Crucial work
Councillor Ranjit Banwait, cabinet member for neighbourhoods and streetpride at Derby City Council, said: "It is crucial Derby's highway infrastructure is maintained so that we keep the city and our economy moving."
Built in the 1970s, Derby's inner ring road is used by almost 60,000 vehicles on an average weekday and at peak times more than 4,000 cars, buses and lorries use the section of road every hour.
During the maintenance three bridges carrying the inner ring road will be refurbished, new lighting will be installed and 600m (1,968ft) of concrete barriers will be replaced.
Mr Banwait advised drivers to plan ahead for their journeys by finding alternative routes and leaving additional time to reach their destination.