East Midlands Airport-closure Spitfire 'recently restored'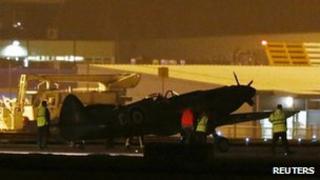 A Spitfire plane that forced the closure of East Midlands Airport when its landing gear collapsed as it came into land had been recently restored.
The airport was shut for two hours on Monday, after the World War II plane came in at 15.30 GMT.
The pilot was not hurt but several flights were diverted to Birmingham during the closure.
Rolls-Royce bought the aircraft in 1996 and it underwent a major overhaul in 2010 - the first since it was built.
A spokesman for Rolls-Royce, which has a base at the airport, said the pilot was not hurt in the incident and they would co-operate fully with the Air Accident Investigation Bureau (AAIB), which is looking into the circumstances of the incident.
Extensive restoration
The airport was closed was shut while the plane was removed from the runway and the area cleared of debris.
An airport spokesman said seven flights were diverted to Birmingham and hundreds of passengers were bussed from Birmingham back to East Midlands.
The AAIB said a report on their investigation would be filed in due course.
Staff at Rolls-Royce could not confirm the condition of the plane since the incident but said it had been in the process of being made ready for a new season of air displays starting in April.
The Spitfire, PS853, was delivered to the RAF 68 years ago and designed as a fast, high-flying aircraft.
It was engaged on active service with 16 Squadron until the end of the war and participated in Operation Crossbow to detect German launch sites.
It remained on duty in Germany until March 1946 when it returned to the UK and was placed in storage.
More recently the aircraft, which is kept in a dedicated hangar at the airport, could be seen at displays between April and October and went through annual inspections in the winter months.