Ambergate railway bridge hit four times in six months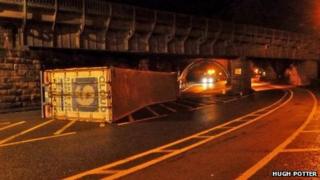 Residents in a Derbyshire town say they fear someone will be killed after four accidents at the same railway bridge in fewer than six months.
Four lorries have crashed into the bridge on the A6 in Ambergate since August with one overturning and another losing its roof.
Residents criticised road signage after the latest incident on 31 December.
But Derbyshire County Council said all the correct signs were in place warning motorists about height restrictions.
Tina Fallon said the latest accidents at the bridge on Derby Road were causing traffic problems along the road and train delays.
She added: "It is an old bridge and has been there a long time but for some reason these accidents keep happening now.
"I'm concerned there could be a major incident if it happens again and someone could be seriously hurt or killed."
Resident Gary Travis said: "Plenty of lorries get under the bridge but every now and again one doesn't. The bridge is low and isn't getting any lower so maybe the lorries are getting taller."
'Dangerous' bridge
Residents claim accidents have risen at the 4.8-metre-high bridge, which was built in 1931, since a nearby bridge was demolished because it was "dangerous".
In July the county council removed the disused bridge over the A610 in Sawmills, near Ambergate after there were more than 20 accidents with lorries in 20 years.
At the time, the authority said the four-metre-high bridge was dangerous and had been removed to stop future crashes.
A spokesman for Derbyshire County Council said: "Signs on Derbyshire roads advise motorists of weight, width or other restrictions in place.
"The signs already in place for the bridge meet national requirements."
The authority said it would monitor the situation at the Ambergate bridge to see if anything further could be done.