Derby woman vanishes on Hull to Rotterdam ferry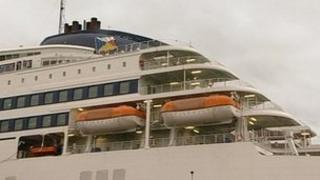 A woman has gone missing while travelling on a ferry from Hull to Rotterdam.
Teresa Cowley, 43, from Derby, had been drinking with her husband before she vanished at about 01:00 GMT on Friday.
He had left her outside their cabin while he went to reception to sort out a problem with their room key.
She was then caught on CCTV walking to a sun deck, but has not been seen since.
Mrs Cowley and her husband, from Mickleover, had boarded the Pride of Rotterdam ferry in Hull on Thursday.
Key problem
Prior to her disappearance, the couple had been drinking before they returned to their cabin to find there was a problem with the key.
Her husband left his wife outside the cabin while he went to resolve the issue. CCTV pictures showed her walking alone to one of the ferry's sun decks.
Once she was reported missing, searches of the boat were carried out, but nothing was found.
Derbyshire Constabulary, which is now liaising with police in Rotterdam, said it did not believe anyone else was involved or that any offence had taken place.
Mrs Cowley is described as white, of medium build, about 5ft 4in (1.6m) with several large tattoos. She was not carrying any money or identification.
Police have appealed for witnesses or anyone with information about her whereabouts.