Breast cancer helpline founder honoured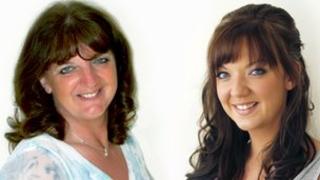 A woman who has fought to raise awareness of hereditary breast cancer has been appointed MBE in the New Year Honours.
Wendy Watson, from Derbyshire, was the first person in the UK to have a pre-emptive mastectomy to avoid breast cancer.
As the founder of the National Hereditary Breast Cancer Helpline she has helped thousands of others at risk.
She has been appointed MBE for services to people with breast cancer.
Mrs Watson said genetic predisposition to breast cancer was not well known previously.
"My GP had told me there was no such thing as hereditary breast cancer," she said.
"I discovered nine of my relatives out of ten had it but he said 'there's nothing you can do'.
"That's when I invented the idea of having surgery."
Mrs Watson, now 57, had a double mastectomy in 1992 and her daughter Becky Measures had the same procedure at the age of just 24.
"I don't think everybody should do it but people should have all the opportunities to do whatever they feel is right for them," said Mrs Watson.
She founded the helpline in 1996 with the help of a grant from the Department of Health.
Mrs Watson, from Over Haddon, Bakewell, also sits on the National Institute for Clinical Excellence (NICE).
She lectures in universities, colleges, medical institutes and health authorities across the world about her experiences and the nature of cancer causing genes.
Other Derbyshire recipients in the New Year Honours list include British Cycling performance director Dave Brailsford, who has been knighted for services to cycling and the London 2012 Olympic and Paralympic Games.
Derby South MP Margaret Beckett has become a Dame for public and political service.
CBE recipients from Derbyshire include Prof Richard J Parker, director of research and technology at Rolls-Royce Group, for services to engineering.
People appointed OBE include Carol Taylor, director of development and research at the National Institute of Adult Continuing Education, for services to adult learning.
Those appointed MBE include Anthony Rowland Favell, councillor and chairman of the Peak District National Park Authority, for political and public service.