Christmas turkey farmer: Flooding posed collection problem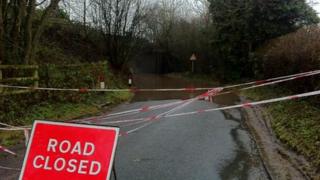 A Derbyshire farmer who faced problems after flooding closed a road to his farm says most of his 230 turkeys have been collected.
The road leading to Highfields Happy Hens in Derbyshire was closed by flooding, meaning people had to take a seven-mile detour.
Rain and flooding has closed other roads in Derbyshire.
Farmer Roger Hosking said: "People have been absolutely marvellous - everyone has made an effort to collect them."
"We have even sold a lot of our spare ones - it has been absolutely brilliant," Mr Hosking said.
Part of Heage Lane, the main route leading to the farm in Etwall, was under several feet of water.
Mr Hosking said: "We were absolutely dependent on people arriving to pick up their turkeys."
"About three weeks ago it was flooded for two weeks which was our main order period for turkeys and ducks and geese."
Mr Hosking said there were acres of fields near his farm which look like lakes.