Christmas turkeys trapped by Derbyshire flood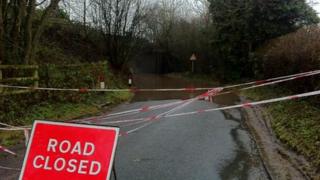 A farmer fears 200 turkeys slaughtered for Christmas will not be collected because of flooding.
The road leading to Highfields Happy Hens in Derbyshire has been closed, meaning people collecting their turkeys will have to take a seven-mile detour.
Rain and flooding has closed other roads in Derbyshire and disrupted trains between Derby and Nottingham.
Meanwhile, firefighters have rescued several people after their cars became stuck in water on flooded roads.
Part of Heage Lane, the main route leading to the farm in Etwall, is under several feet of water.
'Lucky ducks'
Farmer Roger Hosking said: "The turkeys are the one thing that is a huge value, that once they are dead there's nothing you can do with them.
"We are absolutely dependent on people arriving to pick up their turkeys."
He said he has taken orders for more than 200 turkeys but did not ask for payment in advance or a deposit.
He is worried people will not make the effort to collect the turkeys, or they will not know how to reach the farm.
"About three weeks ago it was flooded for two weeks which was our main order period for turkeys and ducks and geese," he said.
"So we have actually still got ducks and geese alive that you could call lucky ones because they'll not be in a plastic bag."
Mr Hosking said there are acres of fields near his farm which look like lakes.
"It's an amazing sight if it wasn't so depressing," he added.
The Environment Agency has issued flood warnings for Sawley, Egginton and Ambergate.
Derbyshire County Council has reminded drivers to take notice of road closures to avoid becoming stuck in floodwater.