Strike begins over Sinfin Community School academy plan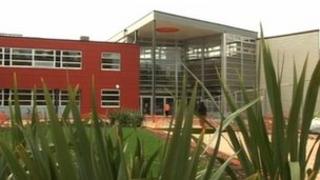 Teachers have begun a two-day strike over a government proposal to turn their school into an academy.
Sinfin Community School, in Derby, was taken over by the government after "serious concerns" about standards were raised following an Ofsted report.
But teaching unions argue the school has achieved its "best ever results" and should stay as a community school.
An interim executive board will now run a consultation on converting the school into an academy.
Susan Arguile, from the National Union of Teachers (NUT), said: "We hate strikes - but we feel that we have no option and members feel that they have no voice.
"This has been forced on us by the government."
'Serious concerns'
She added: "Sinfin has had its problems in the past - but it's a good school and it's on the up.
"This is a community school and I think the name says it all, a good local school for every child."
She called for a "proper consultation" to be held on the future of the 900-pupil school, which would include abandoning the idea of turning it into an academy.
In a statement, the Department for Education said: "We have serious concerns about standards at Sinfin Community School. This is a school with a long history of underperformance.
"We cannot just stand by when a school is failing children - we need to step in and make changes quickly."
Ofsted first gave the school a Notice to Improve in 2010 after it fell below the minimum standard of 35% of pupils gaining at least five A*-C grades including English and maths.
Figures have since improved slightly but the government decided the school's overall progress was "inadequate".