Chatsworth House Raphael drawing record £29.7m sale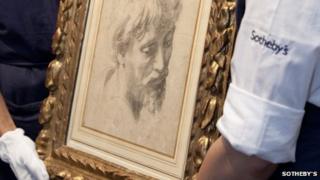 A record price for art on paper has been set with the £29.7m sale of a drawing by Italian painter Raphael.
The black chalk drawing, called Head Of A Young Apostle, was auctioned by Sotheby's, London for Chatworth House in Derbyshire.
Bidding for the artwork lasted 17 minutes and involved four people.
The Duke of Devonshire, who owns 13 other pieces by the artist, has said the sale will benefit the estate's long-term future.
The piece was estimated at between £10m and £15m but when the hammer fell it had reached £29,721,250.
Sotheby's said it was a record price paid for any work on paper sold at auction and the second highest for an Old Master sold at auction.
Details of who bought the work have not been released.
Gregory Rubinstein, worldwide head of Old Master Drawings at Sotheby's, said "If you are lucky, at some point in your career a work like this comes along."
The work was a preparation drawing for a figure in Raphael's Transfiguration which hangs in the Vatican Museum in Rome.
Two other masterpieces from the Devonshire Collection also went up for auction at Sotheby's in London on Wednesday.
The first, the Mystere de la Vengeance, was estimated to be worth between £4m and £6m but did not reach its reserve price.
The second is an account of the fictional and swashbuckling deeds of Sir Gillion de Trazegnies in the Middle East, which sold for £3.8m.