Peak District: Chapel Gate trail rider ban overturned by High Court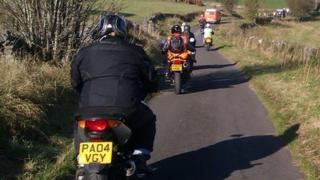 An order banning 4x4s and trail bikes from using unsurfaced lanes in an area of the Peak District has been overturned by a High Court judge.
The Trail Riders' Fellowship (TRF) which challenged it on Friday said taking away "green lanes" use removed centuries-old rights.
Peak District National Park Authority (PDNPA) said vehicle ruts and mud deter walking, cycling and horseriding.
The TRF has made a series of "go-slow" protests since August over the problem.
Off-piste 'hoodlums'
The High Court said the ruling was in relation to an experimental order for Chapel Gate, which is about 3km long and runs over moorland from near Chapel En Le Frith towards Edale.
A spokesman for the PDNPA said the ruling was separate from a public consultation which closed in November, over a proposed permanent barring of vehicles from two routes on Long Causeway and the Roych.
The authority described Chapel Gate as being of the highest international importance for wildlife and natural beauty, and said its monitoring of the route was set to continue despite the ruling.
The TRF said it was a respectable group being tarred with the same brush as off-piste "hoodlums" over its desire to use unsurfaced Peak District lanes.
Its chairman Mike Irving said: "There are 3,000 miles of pathway in the Peak District. We have got 2%. The others are under traffic regulation orders or are footpaths or bridleways.
Officials 'disappointed'
"They blame us for damaging trails, but in reality they are under-repaired, damaged by water erosion, agricultural vehicles or horses.
"We know our vehicles... can cause a bit of damage. We've offered management solutions, but their solution is to ban us."
Christopher Pennell from the authority said he was disappointed the order had been overturned.
A report about the judgement and responses to it is due to be considered by members of the authority's audit, resources and performance committee on 25 January.