Derbyshire and Nottinghamshire PCCs to fight budget cuts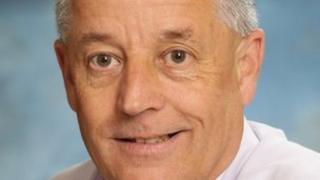 Nottinghamshire and Derbyshire's newly elected Police and Crime Commissioners (PCCs) have said they will fight the government on "vast" budget cuts.
Labour's Alan Charles, PCC for Derbyshire and Nottinghamshire PCC Paddy Tipping, also Labour, said thousands of frontline officers had already been lost as a result of cuts.
All the new PCCs are meeting Home Secretary Theresa May on Monday.
Mr Charles said further cuts would leave Derbyshire "very vulnerable".
"Vast and relentless cuts of the scale we have seen over the past few years are eventually going to have a detrimental impact on performance," said Mr Charles.
'Safety' threat
"There are now almost 7,000 fewer frontline officers on the country's streets, almost 150 fewer in this county alone.
"My priority is to keep the communities of Derbyshire safe... which is why I will address these issues with the Home Secretary and make our opposition to these unacceptable cuts abundantly clear," he said.
Mr Tipping echoed Mr Charles' calls for a review of budget cuts.
"If the government's own funding formula was applied correctly, Nottinghamshire alone would be £13.5m better off next year which would ease the financial pressure significantly.
"I want people to be safe, to feel safe and I don't believe that ongoing funding cuts will help."
Derbyshire Police needs to save £21m by 2015 and Nottinghamshire Police needs to save £42.3m by 2015.
Elections were held in November to choose PCCs who have replaced the 41 police authorities in England and Wales.
PCCs are responsible for setting priorities for their police force, overseeing its budget and hiring the chief constable.