Derby Eagle Market rents 'too high' say traders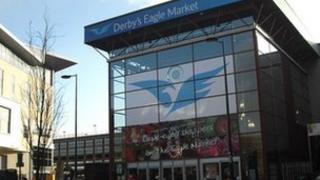 Traders in Derby's Eagle Market have complained that high rents are putting off prospective stall-holders.
The 340-stall market, which is attached to the Westfield shopping centre, currently has about a third of its stalls unoccupied.
The traders association said the price of rent, combined with service charges and business rates, was putting people off opening new stalls.
Derby City Council said it had not increased its rent charges since 2004.
Traders are currently charged an annual rate of between £25 and £34 per sq ft depending on their position within the market as well as a £12.96 service charge per sq ft per annum.
'Scared away'
Kay Woodhouse, chairman of the Eagle Market Traders Association, said: "We're getting prospective traders coming to look for new stalls every day and quite a few people ask the traders what it's like here.
"When they find out the price of the rent, they're scared away."
Steve Meynell, head of estates for Derby City Council, said rental rates reflected the market's prime location.
He said: "The rents on the market actually have not been increased since 2004 and before that 1992. We do look at the level of rents and consider the overall cost to the traders.
"The Eagle Market has good days and bad days but coming up to Christmas we'd expect it to be full.
"What we are doing is working with the traders to look at value for money. We are looking at rent free periods to encourage more traders in."