Heanor man admits trapping wild birds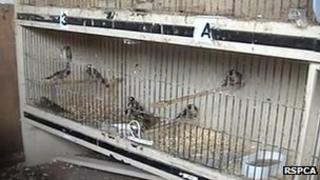 A man who trapped wild birds and kept them at his Derbyshire home has been banned from keeping birds and ordered to do 250 hours of unpaid work.
Bryan Haslam, 53, from Buxton Avenue in Heanor, admitted possessing 28 wild birds, causing them unnecessary suffering and having illegal traps.
Haslam told Derbyshire Police he thought it was legal to capture birds on his own property.
He was banned from keeping birds for 12 years by Chesterfield magistrates.
When RSPCA officers raided Haslam's house, they seized bullfinches, chaffinches, gold and greenfinches with fake ring identification to make them look as if they had been bred in captivity.
They also found a ringing kit and 400 unused rings. Sentencing him, the presiding magistrate said: "These events are not the acts of a bird lover. You deprived them of their freedom and caused them suffering and stress."
All the birds have since been released into the wild.