Derby City Council cuts 350 jobs in a bid to save £63m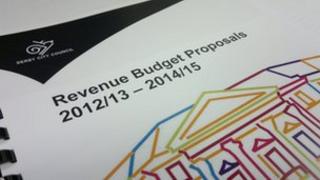 A further 350 jobs are to go at Derby City Council, taking the total number of cuts to 1,000 in three years.
The cuts have been announced as council bosses said the authority needed to reduce its budget by £63m by 2015.
City council leader Paul Bayliss said it was also looking at other ways to make savings, including service cuts.
Council staff have been offered voluntary redundancy to leave by the end of the year, but after that they face compulsory redundancy.
Mr Bayliss, of the Labour group, said the council had been given no other option but to make reductions to jobs and services.
He said: "We are having to make these cuts because the government has reduced our funding.
"We have tried to make cuts in areas that will do the least harm to the city of Derby and the services that people expect the city to deliver and feel we have come up with a reasonable proposal.
"Unfortunately that means looking at what services we can cut and what we can still offer and also means cuts to our dedicated workforce."
Service changes
Mr Bayliss said the council was looking at closing some council buildings to make savings, stopping services at bowling greens and cricket pitches around the city, and also children's services.
It had also considered changes to the refuse collections by charging residents for brown waste collections and introducing some car parking charges.
However, big projects such as the Council House refurbishment and the building of the new velodrome are still going ahead.
Mr Bayliss added: "The reason for keeping leisure projects such as the velodrome and swimming pools is because it is cheaper to build new facilities than maintain the old ones, so we are actually saving money."
No opposition spokesman was immediately available for comment. Roger Young, of the Unison union, said further cuts had been expected.
"We are concerned about the impact this has on staff and their families and services but it is still too early to see which departments and services will be affected," he said.
"You can't just lose this many jobs over three years without having an impact and clearly that will be felt within the council."
Members of the public have until 4 January to give their thoughts on the proposed changes, and the final report will be discussed at a full council meeting on 30 January.