Derbyshire floods clean-up operation begins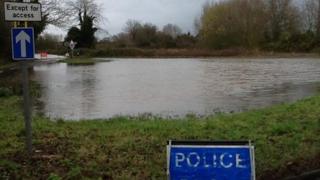 A clean-up operation is under way in parts of Derbyshire after heavy rain and flooding hit the county.
About 50 properties were flooded, with low-lying homes in Willington and Twyford, south of Derby, bearing the brunt.
On Monday afternoon, residents close to the River Trent were asked to stay with friends and family.
And people faced long delays when the A38 was closed because of flooding from the Toyota Island into Staffordshire.
An equestrian centre in Shardlow had to evacuate 37 horses after it was badly affected by rising flood water.
Dawn Webster, who owns the stables at Cavendish Farm, said it took about 15 hours to move the animals on Monday.
Ms Webster said her home at the site is also underwater and she has lost many of her possessions.
Emergency services worked with the Environment Agency and Derbyshire County Council to establish an incident response room at County Hall in Matlock.
Mark Alflat, director of operations at South Derbyshire District Council, said: "Our staff, together with the emergency services, are working extremely hard, round the clock, to help deal with the issues the weather has presented."